Hi y'all!
Happy What I Ate Wednesday! Today I'm giving you some dirt on what I ate this past weekend, which I mentioned on Monday.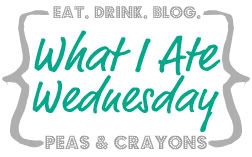 As I've mentioned before, my weekend eats tend to be slightly larger and less frequent than my weekday or school eats. I typically eat out one dinner and a lunch on weekends, and then I usually make a slightly more indulgent home cooked meal. I find that by splurging a little extra on the weekends (and saving my alcohol consumption for the weekend), it helps me to stay on track much better during the week.
Then when the weekend does come, I'm able to balance my splurge meals with healthier eating the rest of the day. I find it's easier for me to balance it all this way and it keeps my food intake where it needs to be for the week!
This Saturday started with a bowl of my favorite cereal (1 cup) with 1 cup skim milk. I also had some iced blueberry green tea on the side.
Normally I have fruit with breakfast, but I've been uninterested in fruit the past week or so. Isn't that weird?
We had a busy afternoon placed, so lunch was grabbed from Freebirds, a really good burrito place. Think chipotle, but like wayyyy better. They have so many more toppings and you can make burritos, tacos, salads, etc. Plus everything they put on your meal is pre-portioned, so you can trust their nutritional information is accurate to what is actually on your plate!
I had a salad with spring mix, mixed cheese, pico, grilled fajita veggies, onions, grilled white meat chicken, black beans, avocado, salsa and ranch dressing on the side.
You can see I barely even touched the ranch. I'm just not a big dressing fan!
This salad though, I'm a big fan of – as if you couldn't tell ;). It was so fresh and left me full of energy and feeling great. Gotta love those greens!
Snack was later in the afternoon after I did some blog work.  I had one big banana (that I cut in half twice) along with butterscotch peanut butter. This peanut butter is divine and sinful. We had it while at HLS and Michelle sent some to Sarah, who was the sweetest girl in the world to share with me. You can only buy it in Pennsylvania and I have checked – they unfortunately do not ship it anywhere else :(
I'm so sad it's almost gone :( wahhh
Then FINALLY dinner! I was looking forward to dinner all day. We had company over, so I put together homemade pizzas for everyone. I made a big circular pizza and a smaller, thinner crust, square pizza.
I used this recipe for the dough (subbing whole wheat pastry flour for the whole wheat flour), though I made 1.5 times the dough since I made 2 pizzas. I topped the dough with tomato sauce that I doctored with herbs and spices, then mozzarella cheese and pre-cooked sweet italian chicken sausage. That's it!
I had four slices of the thinner, square pizza. When I make just one pizza I make the circular one and I eat 2 slices (1/4 the pizza). This was the exact same amount of food, just in flatter thinner slices.
It's so simple but I promise once you try homemade pizza, you won't go back to takeout pizza again. I love the dough for this pizza because it's actually filling and doesn't leave you with a blood sugar spike 2 hours later. I also love that the chicken sausage is much leaner and lighter than traditional pork sausage. It doesn't hurt my stomach the way takeout sausage pizza does.
Plus, you are controlling the quality of the ingredients and the amount of cheese and toppings you put on the pizza!
That's all I ate for the day! No alcohol, no dessert, no munchies that night. It's pretty amazing to me that I can go from eating 6ish times during the week to only eating 4 times on the weekends. But I guess that's what happens when one of your meals is more indulgent.
Tell me what a typical weekend of eating looks like for you? Have any weekend tips or strategies for people?
My weekend strategy is to indulge, but do so with balance. I knew I was going to have a heavier, more carb filled dinner – so I opted for a salad with healthy protein and fats for my lunch.