Happy Wednesday!
Y'all are lucky, because I'm exhausted as I write this – but I wanted to show y'all (while it's still time-relative) a day's worth of eats from the summer.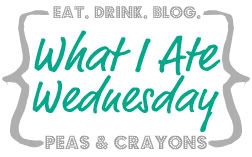 And that has to be today because it's What I Ate Wednesday! I don't participate that often, but if you want to see my past WIAW posts, here you go.
Truthfully, my eats were anything but stable/predictable this summer. I meal planned most weeks, but I also didn't shy away from eating out for lunch when Matt asked me to join him on his lunch break – or eating out some nights because I was just busy all day and didn't have time to cook. I also fell into the trap of eating larger meals and not as many snacks, but that wasn't planned – it just kind of happened that way.
Like I said, I lived an actual summer, so consistent, I was not.
Anyway, this is a day of eats from last week. I wanted to snap a full day to show y'all, just so you could see the somewhat eating schedule I had this summer.
The day started with two whole wheat freezer waffles with butter that I ate in the car on the way to my trainer workout. I was eating whole wheat toast with peanut butter before these workouts most of the summer, but I switched to the waffles in July because I was SO TIRED of eating toast + pb.
I was suffering from a head cold, so I only made it about 30 minutes during the training session before I had to stop. I was coughing too much to keep the cardio part going, and since it was legs day – breathing was starting to get labored and painful.
As soon as I got into the car after the workout, I had a protein shake. I love the Optimum Nutrition 100% Oats & Whey protein powder, and I've seen MAJOR results with regards to my hunger and recovery since I started drinking these after trainer workouts. (By the way, if you want to buy this powder – get it on Amazon. Way cheaper) I started with the vanilla, but just switched to the chocolate after my vanilla tub was gone. The chocolate is SO GOOD.
Normally, I also have a 20 oz G2 gatorade in the car on the way home too. Since it's roughly 90 degrees when I'm working out, I was finding I wasn't able to get rehydrated from just water alone. I also get REALLY bad exercise-induced nausea, so the gatorade helps prevent that.
However, this day – I skipped the G2 since the workout was so short. Instead, I went home and had some emergen-C, in an attempt to kick my head cold.
Lunch was a few hours later. I heated up leftovers from the night before – the Skinny Taste Summer Vegetables with Sausage and Potatoes.
Afternoon snacks included watermelon with hot tea and my favorite summer smoothie – 1 cup skim milk, 2 T PB2, 1 T Trader Joe's Magic Moo syrup, 1 frozen banana.
By dinner, I wasn't feeling that great – so I just made a quick bean and cheese burrito with hot sauce on a whole wheat tortilla. I would have preferred have some veggies too, but like I said – I was lazy.
Since dinner was so light, I had a before bed snack as well (This was an unusual summer day where I actually did snack). My HS snack was a nectarine with cinnamon and a kefir shot.
So there you go – a day's worth of summer eats for me. I thankfully got back into my routine of eating meat, on average, once a day in July. Adding that protein powder seriously helped curb my hunger – because I was definitely eating much differently in June during my month of famine.
And of course now that I'm in my internship – my day looks 100% different. Hopefully I can sneak some photos to show y'all what that looks like soon!
What did a day of eats look like this summer for you? Anything like mine?